I am excited to announce the production of "Agent Askeladden," a serious game experience that we have created for Fredrikstad Museum's upcoming exhibition "Operation Polar Bear VI: World War II in Østfold 1939-1945."
The game, aimed at younger audiences, puts players in the role of secret agents on a mission to collect information and complete challenges throughout the exhibition and learn about World War II events. By incorporating hidden rooms and locations, as well as advanced technologies such as artificial intelligence and touch screens, we have created a truly engaging game experience.
We look forward to seeing the response from visitors when the exhibition opens on February 8th, 2023.
Incorporating Hidden Rooms and Secrets for Serious Game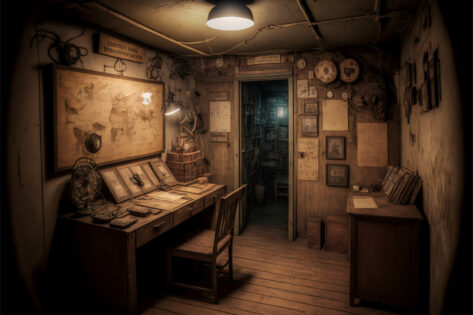 From the start of the design process, we carefully incorporated hidden rooms and locations into the exhibition's structure. These hidden spaces are an integral part of the game experience, allowing players to uncover new challenges and secrets as they explore the museum.
The game is integrated throughout the exhibition, creating a seamless and immersive experience for players. Our careful planning and design have resulted in a unique and engaging game experience at Fredrikstad Museum.
The game uses the museum as the playing field, allowing players to explore and solve puzzles to progress through the game. Players will communicate with a fictional "London headquarters" to receive new assignments and updates.
A Family-Friendly Experience
One of the key goals of "Agent Askeladden" is to provide an activity for the whole family to enjoy together. In order to achieve this, the team had many discussions on how to create a game that would not require players to spend excessive time on their phones. As a museum, we want visitors to engage with and interact with each other, rather than spending all their time on their phones.
To achieve this, we designed the game to be played primarily in the exhibition itself, with players using the physical space to solve challenges and puzzles. We also included a range of tools and activities that do not require the use of a phone, such as Cipher Wheels, radio receiver and UV flashlights to keep players engaged and interacting with each.
We have also included instructions on how to use Morse code, allowing players to communicate with London headquarters in a covert manner.
Enhancing the Game Experience with Technology
Touch screens will be available throughout the exhibition to allow players to communicate with "London headquarters" and receive mission updates. These technologies will enhance the game experience and make it more immersive and engaging for players.
The Benefits of a Serious Game for a Museum
The use of serious games in a museum setting has many advantages. They provide a fun and engaging way for visitors to learn about the exhibits and topics covered.
They encourage exploration and discovery, and they make the museum experience more interactive and immersive.
We can include a range of tools and resources in a Serious Game. These tools allow players to not only solve challenges and puzzles in the game, but also learn about encryption and the technology used during World War II, such as Enigma machines. This information is not only interesting from a historical perspective, but it also helps players understand the importance of secure communication in the modern world.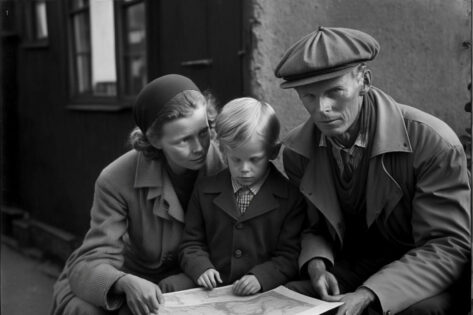 Serious games can be used to present difficult or sensitive topics in a engaging and interactive way. For example, a museum might use a serious game to help visitors learn about the deportation of Jews during World War II. In the game "Agent Askeladden" players take on the role of a secret agent, who must help a Jewish family escape from deportation by guiding them to safety in Sweden.
This type of game can provide a unique and immersive learning experience, allowing players to engage with the topic on a deeper level and better understand the challenges and experiences of those who were affected by the events of the war.
In addition to making the exhibition more engaging and interactive, "Agent Askeladden" is an excellent way for younger visitors to learn about events that affected Norwegians during World War II. The game encourages players to look more closely at the objects on display and think more deeply about their significance.
Low Maintenance for the museum but still Enjoyable for Visitors
One of the key challenges in creating "Agent Askeladden" was to design a game that would be low maintenance and enjoyable without requiring a lot of assistance from museum staff. Our highest priority was to provide a fun and engaging experience for our visitors without adding additional workload to our staff.
To achieve this, we carefully designed the game to be self-guided and easy to navigate. Players are provided with clear instructions and goals, as well as a range of tools and resources to help them solve the challenges and puzzles they encounter.
Artificial Intelligence
We will be using Artificial Intelligence tools such as MidJourney and Dall-e to generate the visuals for the game interface and overall game experience. These tools will enable us to create high-quality graphics and animations, adding a new level of realism and excitement to the game.
The Fredrikstad Museum's upcoming exhibition is accompanied by three large immersive video installation for the upcoming exhibition on Østfold during the war period of 1939-1945.
I wrote about the process of installing the projectors in a blog post called: Exhibition with a massive interactive video surface from two Optoma DLP projectors